At La Petite Ecole, the French national curriculum is taught in French and English by two native teachers for children from nursery (TPS, 2.5 years) up to the 3rd (GS, 6 years) year of preschool – Cycle 1. In order to ensure high-quality education, the teaching team receives training throughout the year, internally, as well as through their partnership with the Agency for French Education Abroad (AEFE). The school welcomes families from all walks of life. It is open to its host country, its language and its culture.
La Petite Ecole follows the French national curriculum and is structured around four key skill areas:
01
Mobilizing language in all its forms
02
Acting, expressing oneself and understanding through physical and artistic activities
03
Gaining basic numeracy skills
OUR TEACHING IS STRUCTURED AROUND 4 KEY PILLARS
La Petite Ecole is a caring, innovative school with a child-centered approach that respects the diversity, pace of learning and uniqueness of each child. The joy of learning and the happiness of each child are key to academic success, which is why they are placed at the heart of our teaching approach. These are our pillars:
MIXING AGE GROUPS
Children must be able to build substantial and diverse human relationships and interact with people of different ages, which is mostly achieved through imitation. This social diversity brings a sense of cohesion and security and reinforces mutual respect. From an educational perspective, this context is mutually beneficial to both younger and older pupils: young children learn a great deal from their contact with older children, further arousing their interest and further fueling their motivation, while older children learn how to emphasize, gain a greater sense of responsibility and in confidence, and retain the knowledge they have acquired more easily by passing this on to younger pupils.
AUTONOMY
Recent research in teaching and neuroscience has shown that children learn best through their own personal experiences, which facilitate the acquisition of knowledge and the building of self-confidence. A teacher's role is therefore to identify a child's interests and to support them, enabling them to understand and carry out activities independently at their own pace. Through their experiences, children will try things out and make and correct mistakes until they find the solution. Thanks to small class sizes and the presence of a teacher and preschool assistants at La Petite Ecole, children can very easily gain in autonomy.
BENEVOLENCE
Children need confidence, benevolence, free choice and the time to learn expected social behaviors that will allow them to live together in harmony with others. Adults are there to help children understand their emotions and to express them appropriately. By becoming more empathetic through their relationships with others, both children's self-esteem and self-confidence will grow, having a positive, direct impact on their development and academic success. The people around children play an integral role in their education, so we are looking to develop their co-education by involving parents in their learning experience through moments spent all together at school.
A FULFILLING ENVIRONMENT
Children learn to become autonomous and flourish in an abundant and high-quality environment. Each school space, whether inside or outside, is designed to arouse children's curiosity, further fuel their motivation and make them more active. Outside, a magnificent, large, peaceful and fun garden provides access to permanent workshops on a daily basis. Spending time outside and interacting with nature has a positive impact on the physical and mental well-being of children. Inside the classroom, spaces are tidy, organized, diverse and friendly. They are divided by subject or type of learning and the activities themselves are clearly presented on display boards in order of progression and difficulty.
PRINCIPLES & VALUES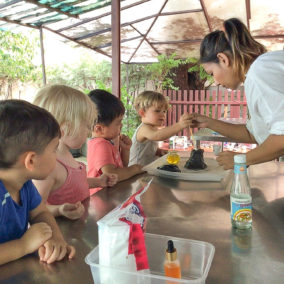 A caring
innovative school with a child-centered approach that respects the diversity, pace of learning and uniqueness of each child.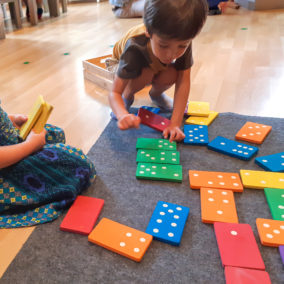 Preschool
is the place – and age – where learning first starts to flourish: each child learns to become autonomous and acquires knowledge and skills by exploring the surrounding environment at their own pace.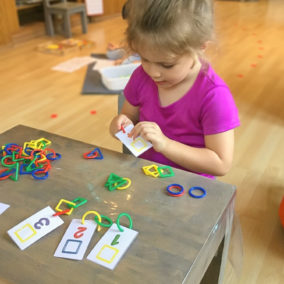 At La Petite Ecole
we understand that early schooling is crucial to the child's overall understanding of the school system in the long term.
Since the period most conducive to language learning is from birth to 8 years, we are committed to offering bilingual teaching of the French national curriculum, with equal time dedicated to instruction in French and English. Language learning is an integral part of a child's day at school, both in the classroom and as part of activities.
"IF YOU DON'T HAVE FUN, EVERYTHING YOU'VE LEARNED WILL VANISH."
In a social and educational environment, curiosity, astonishment and joy are essential to children's development. The joy of learning and the happiness of each child are key to academic success, which is why they are placed at the heart of our teaching approach.
"The right kind of education consists in understanding the child as [they are] without imposing upon [them] an ideal of what we think [they] should be."
Jiddu Krishnamurti
At La Petite Ecole, the teaching team is committed to encouraging children to think logically, critically and independently so that they can become responsible members of society.
Optimism is key during the learning process, an essential feeling for children in developing a more in-depth understanding of the world. Children are therefore constantly encouraged and congratulated for their achievements.
Children can collect evidence of their achievements and add them to their digital learning diary: they can take photographs of their greatest work, self-assess themselves and share their experiences with their parents.
Research has clearly shown that a pupil's success depends not only on their "objective" skills, but also on their confidence in their own ability to learn. In La Petite Ecole, a space for exchanges, "copying" is strongly encouraged.
We also believe in the need for continuous co-education provided by the family and the school, hence why our pupils' families are fully integrated into the learning process.
Start your future today !
Registrations for the 2023-2024 school year are open all year round